Sotrad Water ensures supply, engineering, installation and maintenance of water storage solutions.
We commit to offer "turnkey" solutions including a whole set of services such as:
Project design with client's technicians.
Definition of suitable equipment.
Site survey to best prepare installation work.
Secured and most efficient logistic regarding destinations that are hardly accessible or subject to tensions.
Installation and coordination of all trades.
Equipment control before, during and after installation.

Training of users so local populations can appropriate the good use of the equipments.

After sales service and warranty within and by the intermediary of its excellence poles.
Modular tanks are composed of composite GRP (Glass Reinforced Plastic) panels, also called FRP (Fiber Reinforced Plastic). They are specially indicated for water storage and are built by assembling pre-fabricated panels that are bolted together on-site. Each panel doing 1 m by 1 m, making logistic greatly simplified.
Sotrad Water's modular tanks design allows a fast on-site erection with standard tools.
EXAMPLES
Storage of drinking water
Supply for cities, villages, base camps, etc…
Storage of rain water
Supply for industries, agriculture, etc…
Treatment station
Biological and autonomous treatment
Fire reserve
Supplementary storage for buildings at risk and sensitive areas
Different type of storage
Possibility to store great variety of liquid and solid matters (granules, flakes…)
NORMS AND GUARRANTEE
Modular tanks comply with English (WRAS) and French (ACS) drinking water norms.
Modular panels possess a 10 years warranty against any manufacturing default.
Flexible tanks are an optimal solution for all troubles related to drinking water storage and other liquids.
Each year, hundreds of flexible tanks are installed worldwide.
Quick and easy to set up, without any civil work and not requiring any servicing, flexible tanks are a proven solution to ensure short or long term liquid storage.
Flexible tanks allow a quick storage set up for:
Drinking water on base camps.
Drinking water on construction site.
Fire reserve.
Military troups.
Humanitarian and remote populations.
Agriculture.
Reliable solution:
Pillow tanks deployed worldwide.
Cost effective solution
Up to 70% less expensive than a conventional solution.
Practical solution:
Set up of a 500m3 pillow tank in less than 4 hours.
More than 50 years of expertise
Low investment
Light and foldable
Food grade compliant
Minimal site preparation
Rapidly deployable
Strength technical fabric
Reduction of logistic costs
UV Treatment in the mass
Certified ISO 9001
No servicing operation
High capacity of volume
| | |
| --- | --- |
| TECHNICAL CHARACTERISTICS | |
| Resistance | High resistance textile (minimum 1100gr/m² |
| Material | 100% polyester |
| Temperature | Temperature scale: -30°C à +70°C |
| Tear | Tear strength: 700 N (minimum) |
| Traction | PVC treated fabric: 400 daN/5cm (minimum) |
| Anti-UV | UV treatment in the mass |
| Certificates | Food standard |
| Norms | KTW homologation |
| Origin | European tissue |
| Color | Various colors |
| Guarantees | 10 years warranty against any manufacturing default |
For all your projects, Sotrad Water can supply a whole set of accessories to complete modular and flexible tanks installation: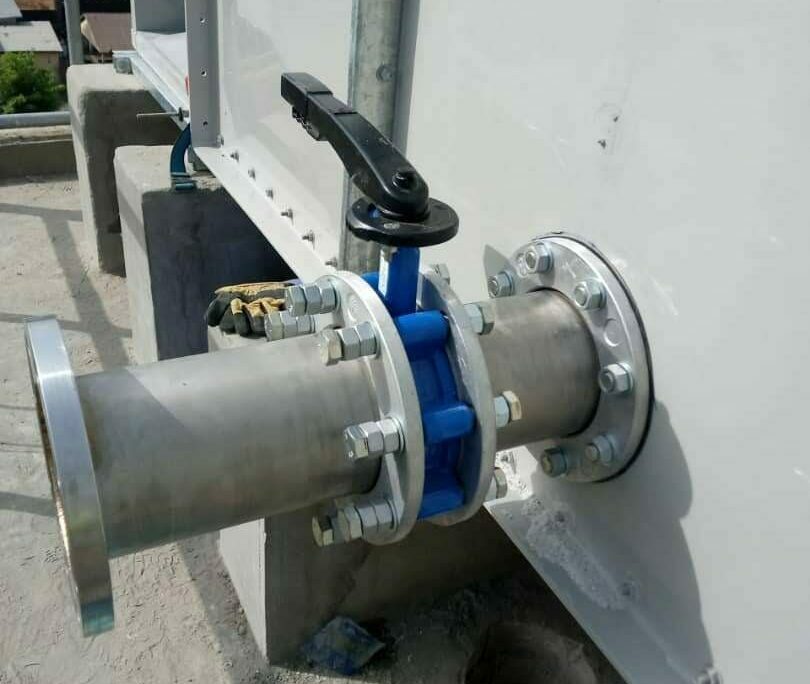 Solar pumping
Water tower
Piping
Fittings
Booster pumps
Sotrad Water's team will support you throughout your projects :
Technical studies
Manufacturing
Shipping
Mounting
Filling tests